Shada Brazile On Her Favorite Things And Her All-Around Baby Line
Shada Brazile has been modeling since she was 14 for lines like Wrangler, Cruel Girl, Justin, and Cripple Creek. Her husband, Trevor Brazile, has been winning rodeo championships for years. The hard work that made these two the quintessential Western couple took an even more Western direction when that they had a baby. With Trevor as all-around inspiration and little Treston as male model, Shada brought the Western sensibility to a new generation with All-Around Baby, a line of Western infant clothing that she launched with Wrangler.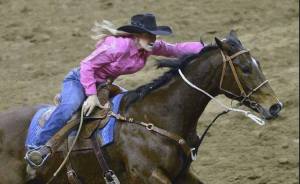 Shada had already been working with Wrangler as a trend forecaster: She advised them to put more detail on the rear pockets of jeans and gave them the heads-up that bandana accents were coming back into vogue. Then she got pregnant. She went shopping for authentic Western infant-wear for son Treston. Nada. Nothing. So she designed it. "I sketched Western shirts with pearl snaps and cute little yokes that were actually onesies so they stayed tucked in," Shada told Cowboys & Indians in 2009. And she sold the designs to Wrangler. She suggested the line's name, too: "I wanted it to be called All-Around Baby because that ties back to Trevor."
How did Treston take to his role as model kid cowboy? "He already walks around swinging a rope, and he loves horses," Shada said. "He's real laid-back; he's a really good baby. At the same time, he's intense. I guess he doesn't have much of a choice, since he comes from both of us."
He says, she says
Trevor and Shada Brazile weigh in on their favorite things.
Favorite music to ride by/design by
Trevor: I'm a big fan of George Strait. He lives the lifestyle, he is a cowboy, and he also is able to pull off the country music. You gotta appreciate somebody who can sing the song and walk the walk, you know?
Shada: Kutless, Third Day, Bon Jovi.
Three favorite places to eat on the rodeo circuit
Trevor: Del Frisco's, Rosa's for Mexican, and Outback Steakhouse.
Shada: P.F. Chang's, Chili's, and Outback Steakhouse.
Three coolest rodeo towns
Trevor: Pendleton — it's so different than any other rodeo, being on the grass. Cheyenne — the tradition never dies around there and I always dreamed of being there. Calgary — they're the only rodeo where you can win about $120,000 in one rodeo, and the fans are a massive gathering.
Shada: Cheyenne — it's my favorite because I've been going there since I was a kid. Bremerton, Washington, because it's beautiful, surrounded by trees, and they provide a huge cookout luncheon for the contestants. Corpus Christi because they have a really cool athletic club.
A version of this article originally appeared in the December 2009 issue of Cowboys & Indians. Find more at www.cowboysindians.com.